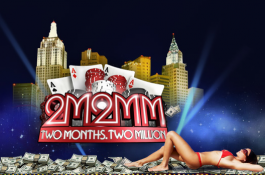 The highly anticipated new poker reality show kicks off last Sunday featuring four professionals. Now, the G4 network is taking this mini-Renaissance of televised poker a step further. Take the traditional reality television concept of "four guys picked to live in a house," mix in some hard-core poker action, season it with a healthy dose of prop betting and Vegas hijinks.

The show is titled "2 Months, $2 Million" it's set to premier last Sunday, August 16th at 9 p.m. ET on the G4 network. With Las Vegas serving as the backdrop, four online pros, each between the ages of 22-24, will try to do exactly as the title says and collectively hit the $2 million mark over the summer using their own bankrolls.

Online Poker Pros Emil "Whitelime" Patel, Jay "Krantz" Rosenkrantz, Dani "Ansky" Stern and Brian "Flawless Victory" Roberts will be playing to collectively earn $2 Million over a period of 2 Months.

The four are not just online players, though. In fact, each of them made the money in the 2008 WSOP $10K Heads-Up Championship. And in this year's 2nd event, the $40K No Limit 40th Anniversary tourney, Stern just missed out on his first gold bracelet, finishing 4th for a $548,315 payday.