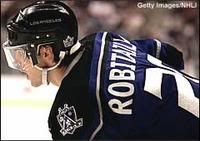 The 4th Annual Luc Robitaille Celebrity Poker Tournament 2009 will be taking place at the MGM Grand in Las Vegas. The event will kick off Frozen Fury weekend with a game of No Limit Texas Hold'em. The players from LA Kings and Colorado Avalanche will come and play as they raise money for Echoes of Hope.

Echoes of Hope a charity founded by Stacia and Luc Robitaille, strives to awaken the spirit of hope in the lives of deserving at-risk and emancipated foster youth by providing the resources, knowledge, skills, love and support they need to reach their full potential.

EVENT OVERVIEW Date: Friday September 25, 2009 Time: Pre-party (Studio 54): 3:00pm* Tournament: 6:30pm Place: MGM Grand, Las Vegas, NV Details: Pre-party at Studio 54 followed by a No Limit Texas Hold 'Em Tournament. Buy-in =$600 ($500 at time of registration and $100 on day of tournament). Guaranteed $40,000 in cash prizes. Bounty prizes for knocking out NHL players!